Getting Ready to End Your Boat Storage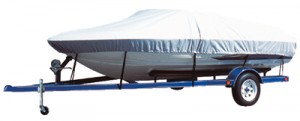 I know, I know, it's way to early to be thinking about Boat Storage issues. Or is it? I find there is no better cure for cabin fever than getting out to the garage, storage shed, or what have you and tinker with my boat. Granted, there's not a lot you can change right now without risking wasting money on parts that may go bad sitting around waiting to hit the water, but you can make a check list and tinker a few things to make it easier to start sailing or fishing when Spring hits.
Check your fuel system for leaks, cracks, or any other visible damage. Grab hold of lines and give them a squeeze. If fuel leaks out or they show cracks, mark them on your list to change. Belts cables and hoses are also made of rubber which makes them susceptible to becoming brittle and failing on the water. Check hoses the same as fuel lines, pull and twist on belts watching for cracks or bad spots. If there are any loose belts, these you can tighten now; one less thing to do in the Spring. Run a hand and an eye over control cables paying special attention to connections and search for swells and cracks.
Inspect all your electrical components for corrosion. Use a wire brush to clean them and add a dab of grease to the outside connections to keep corrosion at bay. List all worn components and check to make sure the battery still holds charge. If it is low, put it on a charger, get it to full charge, then let it set for a few days and check the charge again. Check all your fluid levels. Now is a good time to change any that weren't done during winterization. Look over the hull and fix any dings cracks or scratches. Check propeller bearings and change if necessary.
Finally, the most important part, safety gear. Make sure you have a well- fitting life jacket for each passenger and that they are in good condition. Make sure you have the right fire extinguishers for your boat.
Following these simple steps will make your Spring a happy launch to the boating season. For more tips and advice, contact us today.
Tags: boat storage