Everything You Need To Know About Boat Batteries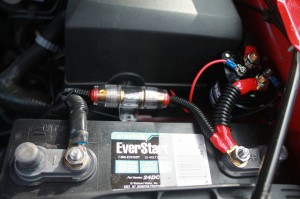 When properly maintained, a boat battery (AKA marine battery) should last for roughly 10 years. Unfortunately, many boat owners unknowingly kill their batteries long before the 10-year mark. Much like a car battery needs regular maintenance, so does a boat battery. By investing some of your time and energy into cleaning and maintaining it, you'll reap the benefits of a longer-lasting battery.
It's important to note that a typical boat battery can lose up to a third of its charge per month when sitting idle in storage. That means three months of storage can essentially kill a battery. Failure to engage your boat's battery regularly will drastically shorten its lifespan, if not kill it completely.
There are two primary types of batteries used on boats: starting batteries and deep-cycle batteries. Starting batteries, as the name suggests, are designed specifically for starting the boat's engine. They are characterized by multiple lead plates and a thinner casing, which in turn allows for greater energy. Once the boat is cranked and running, the alternator will recharge the battery – much like that of a car's alternator. Deep-cycle batteries are used for boating accessories like trolling motors, GPS devices, radios, etc. Since these batteries use far less energy than their counterpart, they don't require constant recharging.
If your boat features a "bank" of multiple batteries, you should avoid mixing old and new batteries together. This may seem harmless enough, but it can shorten the lifespan of your good batteries. The old batteries will adversely affect the new ones, bringing down the overall power generated by your bank.
You should also get into the habit of checking your battery terminal connections on a regular basis for signs of rust/corrosion. When terminals become heavily corroded, it may restrict the normal flow of electricity; thus, preventing your batteries from serving their intended function. To clean them, ensure they are disconnected and sprinkle some baking soda over the corrosion. Next, scrub it down with a wire grill brush. The baking soda will help to neutralize any spilled acid while simultaneously breaking up the corrosion.
The single most important step in maintaining your boat's batteries is to check fluid levels and add distilled water when needed. Allowing your batteries to sit in a discharged state (low-to-no fluids) will greatly reduce their lifespan. Use caution when filling adding distilled water to your batteries to ensure they don't overflow.