Boating With Fido: Tips For Taking Your Dog Boating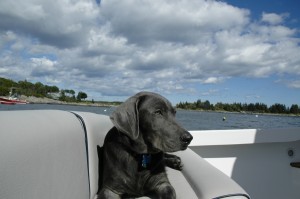 From small breeds like the Chihuahua and Yorkshire Terrier, to large breeds like the Mastiff and Great Dane, all dogs are born with a natural attraction to the water. Most will eagerly jump in a lake or pool and start swimming when given the opportunity. Before you head out on the boat with your furry four-legged friend, though, there are a few things you should know.
Bring Water And a Drinking Dish
It's the owner's responsibility to to keep their dogs hydrated while out on the boat. Being on the lake or ocean on a hot sunny day can quickly dehydrate a dog, and since canines don't perspire like us humans, they must drink water to stay cool. Bring several bottles or jugs of fresh water and a drinking dish if you plan on taking your dog out on the water.
It's not a bad idea to bring a 1-gallon plastic bag filled with dog food as well. After boating for a couple of hours, stop to fill a small bowl or dish with some food for your dog.
Make an Area For Your Dog
Lay out a couple towels down on the boat deck for your dog to rest. Dogs typically spend most of their time soaking up the sun, so you want to make a comfortable "leisure" area for your pooch. A couple of towels placed on the deck should do the trick.
Bring a Leash
You might be wondering why a leash is needed when taking a dog out on a boat. Well, some dogs have a tendency to jump in the water at the first moment they spot a dock or land – even if it's 100+ feet away. Keeping your dog on a leash will prevent this dangerous behavior. Just hold the leash tightly and give it a tug if your dog is edging its way towards the water. By discouraging this behavior early, you'll train your dog not to jump off the boat in future outings.
Watch The Hooks!
If you intend to do any fishing while your dog is on board, keep all lures, hooks, fillet knives, and other tackle safely tucked away where your dog can't reach it. Dogs are inquisitive creatures by nature and may attempt to "play" with a sharp treble hook or other fishing tackle. Your fishing experience can quickly turn upside down if your dog gets a hold of a fishing hook.