Boat Anchors 101: Comparing The Different Types of Anchors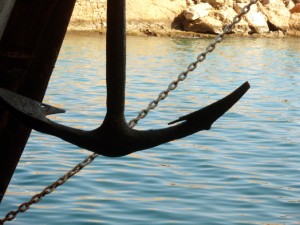 Anchoring is a crucial step in recreational and commercial boating, as it allows the operator to park his or her boat in the water. Without the weight of an anchor holding the boat in place, the water current could send the boat crashing into nearby rocks, vessels, or swimmers.
But it takes more than just an old cyder block to safely anchor a boat. Whether you're boating on freshwater or saltwater, you should use one of the following types of anchors.
The is typically used on larger boats of 26 or more feet in length. As the name suggests, it lands on the ocean floor and holds the boat in place by plowing into the ocean sand. The boat's mass and weight push the plow-style anchor deep into the ocean floor's sediments, creating a strong and secure hold that keeps the boat in place.
It should come as no surprise that the tip of a plow-style anchor resembles a garden plow. It curves at the end to create a scoop with either one or three pointed tips which help it dig into the ocean floor.
The fluke-style (also referred to as the Danforth anchor) is a smaller and more compact version of the plow-style anchor. It features the same hooked, shovel-like end that digs into the ocean floor – only on a smaller scale.
The third type of boat anchor is the mushroom anchor. Unlike the plow-style and fluke-style anchor, the mushroom anchor is designed to create a permanent hold within minutes of hitting the sediment.
So, how is it able to achieve this? Mushroom anchors weigh significantly more than plow-style and fluke-style anchors. Using its own weight, the mushroom anchor buries itself into the sediment to secure the boat in place.
Of course, anchors must be attached to an appropriate line in order for them to work. If the line is too short, the anchor may not be able to reach the ocean floor; thus, reducing its effectiveness at securing the boat. A good rule of thumb is to use an anchor line that's at least 7 times longer than the water depth in which you are boating.
Chains are often attached between the anchor and the anchor line to protect the line from snapping. A strong, sudden current could snap an anchor line, but it won't break a steel chain. Chains also promote a shallow angle as opposed to a vertical line, which further protects the line from breaking.
Tags: anchors