6 Tips For Checking Battery Cables
The battery is new, but the starter is struggling to turn that outboard over. What's the matter? If bench-testing results in a clean billing, you can begin to narrow down the list of possibilities.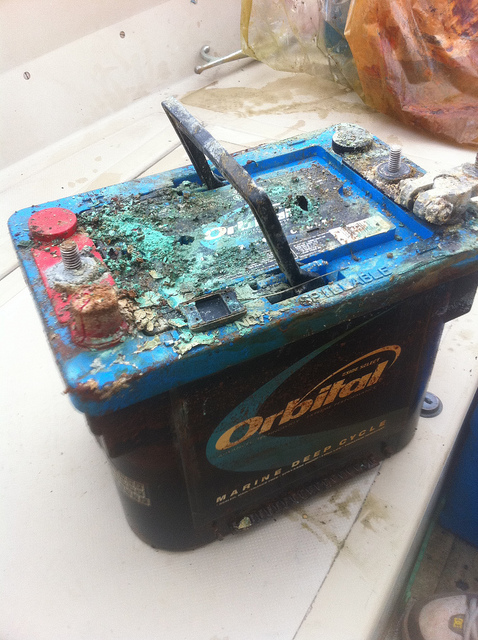 Onwards to the lugs and terminals. Clean all the connections and tighten all the nuts connecting the cables to the battery, battery switch, engine block and starter. If it is still sluggish or dead at this point, there are a few more tests worth running before you throw in the towel.
Test the cables for resistance using the ohm function of a multimeter. This is when the tell-tale signs will begin to emerge. If you find that the electrical resistance in both the negative and/or positive cables is off the charts, chances are you are due for some new cables.
Saltwater use has a tendency to wear on battery cables at a much faster rate than freshwater boating, making them brittle and unable to hold a strong charge. When salty moisture and battery-acid vapor have worked their way through your boat's insulation, your wiring becomes frail with black corrosion, effectively zapping your charge with battery-acid residue. Once corrosion has settled, heat wrought from electrical resistance reacts with the copper filaments, spoiling your wiring components no matter their age.
Bad cables are hazardous to your boat and can lead to unexpected fires. Your alternator moves electrical energy through deteriorating wire with excessive heat that could potentially cause combustion. Bad negative cables can also wear on the performance of your alternator and further damage. Marine-grade tinned-copper cables have better resistance and a better chance of protecting your battery from blowing diodes.
If your battery seems weak, use these six tips to check your cables:
LISTEN
A weak starting sequence is a muffled first clue that something isn't right. Always pay close attention when firing up your boat
TOUCH
Feel your battery cables after your day is through on the water. If one of them is hot, continue searching for problems
SMELL
Cables that are overheating give off a distinct odor. If you smell something foul and trace the smell back to your battery, address the issue sooner than later
BEND
Take each of your cables and try bending it. If it resists and crackles, chances are it has gone bad
LOOK
Don't be complacent. If your voltmeter reads 14.5 volts or more of output, that is a bad sign
TEST
This is the tell all. Grab a multimeter and test for resistance. More than an ohm means you have an electrical problem that needs to be addressed
Tags: Batteries