5 Tips For Maintaining an Outboard Boat Motor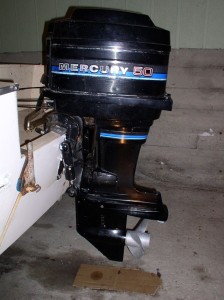 Outboard boat motors operate in a self-contained unit that consists of a gearbox, propeller, and the actual engine. Commonly used in small boats, it offers an effective means of propulsion through the water. However, owners with boats using outboard motors should perform some routine maintenance to ensure a high level of performance.
#1) Flush The Motor
When you return from a day on the lake or ocean, you should flush your motor. This is done by connecting a standard garden hose to the motor using flushing earmuffs (rubber seals and a clamp). Once attached, turn on the water and wait patiently for it to clean. A solid 10-15 minutes should do the job, at which point you can turn off the water and remove the hose.
#2) Operate Between 75-100% Power
Assuming your boat was built in the U.S., it should have a Coast Guard Rating Plate which lists the maximum recommended power for its respective hull. Operating a outboard motor below this amount will result in low speeds and poor performance, whereas operating a motor over this amount is dangerous and could result in damage to the engine or boat. A good rule of thumb is to maintain 75-100% of the maximum horsepower listed on the Coast Guard Rating Plate of your boat.
#3) Dry It
Even if your outboard motor is made of corrosion-resistant materials, you should still get into the habit of drying it after each use. Water can take a toll on a motor's components, settling into cracks and crevices where it promotes oxidation (AKA rust). A quick wipe down of all the major components, however, can prevent this from happening.
#4) Drain The Fuel at The End of The Season
When you are finished using your boat for the season, drain any remaining fuel in the tank. Allowing stagnant fuel to sit for months on end may damage the motor. And remember, spent fuel must be properly disposed of in a waste recycling facility. It's illegal to toss it in the trash along with the rest of your household waste.
#5) Lubricate The Motor Parts

Using WD-40 or your preferred lubricant, take apart all of the moving parts in your engine and wipe them down with a lubricant. Just as automobile engine's require regular lubrication, so do boats. A quick once-a-month application of WD-40 will keep your outboard motor working in optimal condition while reducing the risk of mechanical failure.
Tags: Outboard Maintenance