Mercruiser Seawater Pump Body Changes
Belt Driven Seawater Pump ( With Plastic Body ) Changes.
Mercruiser Parts – All MCM, MIE models with Belt Driven Seawater Pump with plastic body.
The original pump has been called the 2-piece body because it used a cover with gaskets and a wear plate.
A 1-piece body is now used in production and is available for servicing most of the older seawater pumps with the 2-piece body. This new 1-piece body gives 20% more water flow at higher engine RPM's than the older 2- piece pump and it eliminates 2 gaskets, 1 wear plate and the cover.
Replacement body, P/N 47-72774A40, for the 2-piece body pump has been made No Longer Available. To help you service both body types of seawater pumps, several kits have been made available. These kits and their use are listed on the reverse side.
2-Piece Body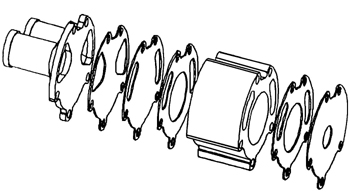 1-Piece Body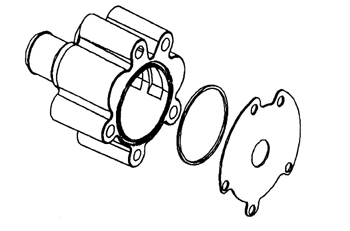 Printed in U.S.A. (OVER) 96-8 1296
46-72744A40 Body: No Longer Available. Order the required replacement parts from the correct list below.
All Alpha, Bravo, Ski, Inboard or 330 (B-W) TR/TRS Engines. All Hi-Performance Engines WITHOUT solid plate front mount.
| Part Number | Description | Content |
| --- | --- | --- |
| 46-807151A14 | Body/Impeller Kit | The 1-piece body comes with all fasteners, quad rings and an impeller. |
Only TR/TRS Engines (with Mercury Marine transmission). Only Hi-Performance Engines WITH solid plate front engine mount.
| Part Number | Description | Content |
| --- | --- | --- |
| 46-72774A89 | Body/Impeller Kit | The 2-piece body comes with a quad ring, all gaskets and an impeller. |
| 47-59362A 4 | Impeller/Gasket Kit | The impeller comes with a quad ring and all gaskets. |