Marine Generators, Marine Generator, Marine Generator Small, Used Marine Generators
Marine Generators – Mase
Mase marine generators, powered by Yanmar engines, feature low sound and vibration levels, efficient size, and built-in sound shields. Mase gensets combine practical design with Italian style. With 10 diesel-powered marine generators ranging from 2.2 kW to 29 kW, Mase gensets are powered by reliable Yanmar diesel engines and cooled by an exclusive Intercooler System. The gensets are designed and manufactured at Mase's headquarters in Italy.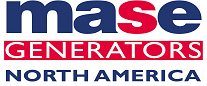 The three 3600-rpm units: 2.2 kW, 3.2 kW, and 5.7 kW offer excellent standby power to run an air conditioner, appliances, or other comforts. The unique small pod of the 2.2 kW genset makes it perfect for running a small (5,000-10,000 btu) air conditioning unit to cool a cabin. All three units were redesigned smaller and quieter in 2001.
The seven 1800-rpm units: 7.6 kW, 8.8 kW, 10 kW, 13.5 kW, 18.4 kW, 23 kW, and 29 kW are used as primary power for offshore use. The 13.5 kW, 18.4 kW, and 23 kW are smaller and quieter this year. These redesigned gensets were introduced to the American market at the 2002 Miami International Boat Show. The 10 kW and 29 kW gensets represent an expansion of the product line and were also introduced in 2002
The industrial marine generators are manufactured for high performance to strict quality standards. They satisfy most any power requirement and are available; air or water cooled, 1500 rpm diesel, with a power range from 10 to 1600 kVA. Customized versions available upon request.

Compare to other manufacturers products
The unique Mase Intercooler System creates a capsule of internal re-circulating air that assists the heat exchanger's internal cooling which keeps the engine and alternator at an ideal temperature. This significantly reduces the ambient temperature outside the genset. This exclusive cooling system allows the gensets, especially the smaller units, to be mounted nearly anywhere on the boat, even close to living quarters, as the heat and vibration emitted from the units are minimal. Since gensets are rated by the deliverable power at a specific temperature, the lower rated Mase units typically outperform the competitions higher rated units.
All Mase marine generators feature a 2-year 2000 hour warranty with a worldwide service network. Each generator comes equipped with custom fitted sound shields that ensure quiet on board operation. Also included is a remote start/stop panel with 65 ft. harness and low-oil, high-temp emergency shut down.
Select the following link for specifications regarding Mase Marine Generator Genset product line – Technical Specifications