Marine Exhaust | Gaskets | Torques | Coatings | How-To Tips
Marine Exhaust Manifolds and Technical Tips.

CLICK HERE TO SHOP ONLINE

 

BEFORE YOU GET STARTED EXHAUST TOPICS:
When the time comes to replace your manifolds, the easiest way to insure getting the proper parts for the job is to take a look at your current exhaust system and write down the casting numbers which are on each part. In some cases the casting number is on the engine side of the manifold and may be hard to see prior to removal. Some exhaust manifolds may have no number at all, making it difficult, but not impossible to identify. This is where engine model number information is helpful. Try and find your engine manufacturer and then match up to the model number information to that. In many instances your motor may be several years older than the boat. The installer, whether a hired mechanic or the boat owner, must be aware of the importance of proper gasket installation at the riser to manifold surface. Water leakage at this point is virtually always a gasket seal problem, not a defective part (however, water leakage at an improperly installed gasket will eventually damage the iron parts in addition to allowing water into the engine). Please read our tech tips for installation of gaskets further down the page. Understanding the plumbing of a manifold may help in the installation and reassembly of your manifolds and risers. Familiarize yourself with the OEM service manual and make sketches or photographs of your plumbing system prior to disassembly. This may avoid problems with the installation. Remember to drain water from your manifolds and risers prior to removal of any of the pieces. Failure to drain the parts can result in damage to your engine due to water ingestion. Do not alter or modify gaskets. Order the correct marine exhaust products for your specific boat application.

WHEN SHOULD YOU REPLACE MARINE EXHAUST MANIFOLDS AND RISERS?
This question does not have a single specific answer that applies to every boat owner. There are several factors that determine the proper time to replace your boat's exhaust system. Having been directly involved within the engineering department at MerCrusier, I personally have seen exhaust manifolds fail in as little as 2 years, but last as many as 15 years. The main factors that determine this are the operating environment (salt water vs fresh water), how many hours per year the marine engine is operated, and finally how well the exhaust system is maintained or flushed. Based on this information we normally tell customers who operate in salt water to expect 5 to 7 years maximum. Since you cannot inspect the internal passages or casting wall thicknesses of these exhaust castings, anything beyond this time range is taking on an increased level of risk. Regarding customers who operate in fresh water we would extend the life expectancy of the exhaust manifolds and risers out to 7 to 10 years. We've certainly seen exhaust products in both salt water and fresh water conditions that go beyond these ranges however when you look at the cost of replacing  the exhaust system it's relatively cheap insurance vs replacing the complete motor in your boat.

ARE THE OEM EXHAUST PRODUCTS BETTER THAN AFTERMARKET?
This is another question that cannot be answered with a single yes or no answer. In some cases depending on who the aftermarket product manufacturer is, the OEM Marine exhaust products are in fact better. However, in many case the aftermarket (sometimes called direct replacement) products are just as good. The main things we suggest comparing goes far beyond just the cost alone. One of the features we like to compare is whether the products are internally & externally coated to fight against the corrosive operating environment associated with boating. MerCruiser does in fact offer an internally & externally coated version of their exhaust manifolds and risers however they are significantly more expensive vs their standard line of exhaust products. The other item we suggest comparing is what casting method is used to produce the parts; Lost Foam vs traditional sand casting (Read More). The Lost Foam casting process works very well for these dual-wall castings however this particular casting process is much more critical to control because the gas created when the foam is burned away generates an increased level of opportunity for casting leakage due to porosity. We have considerable experience with this process having been directly involved at MerCruiser with their exhaust products several of which were patented (Read More), and in our opinion we have NOT seen any aftermarket exhaust companies that show consistent capability to produce equally high OEM Level quality castings when produced by this casting method. However, many of the traditional sand cast aftermarket exhaust products have been around for many years and it's our opinion that these products offer a very safe and economical option vs paying for the OEM exhaust products. In any case we suggest doing your homework and check out some online reviews to compare different brands of aftermarket exhaust, but also compare the company selling them. In most cases the OEM products come with a 1 year warranty vs the aftermarket product manufacturers normally offering 3 year warranty. In the end the products and the warranty are only as good as the manufacturer and the company selling them are willing to stand behind them so doing a little homework to check the online reviews will go a long way towards making the best decision when shopping online for these marine exhaust products.         


PAINT & COATINGS (Read More):
Performance Product Technologies offers the industries only Double EDP Coated direct replacement marine exhaust system products. While other companies offer products with only primer or standard epoxy paint on the exterior only, PPT offers select products with corrosion resistant coatings on the interior and exterior along with ALL of your required mounting hardware.  The benefits of a double EDP coated manifold or riser is that the coating will protect against corrosion before allowing any of the substrate material to degrade. There is no such thing as a totally corrosion resistant coating in that all coatings are permeable to some degree and therefore will allow water to get behind the coating at some point down the road. However, when it comes down to comparing an exhaust manifold or riser that has double EDP coating in the water passages vs the same product with bare cast iron, it's pretty easy to determine which one will last longer.

EXHAUST GASKETS:
The installer should make sure there are no major deformities or obstructions on the gasket surfaces before assembly of manifolds, risers, and elbows. However paint removal is not required. Regarding Dry Joint Exhaust Gaskets p,ease read this separate technical article (Read More).

BOLTS & TORQUE:
Do not use stainless steel or grade 2 bolts to install the exhaust risers or elbows. These particular bolt materials are too soft and will not hold the necessary torque setting, which can cause leaks at the gasket surface.  Bolt torque should be reset after initial startup, while the engine is still warm. Refer to your original manufacturer's engine service manual for specific torque settings. As a rule of thumb we suggest 23 Lb-Ft for a 3/8 lubricated fasteners threading into cast iron, 26 Lb-Ft for a 3/8 dry fasteners threading into cast iron and 18 – 20 Lb-Ft for 3/8 fasteners threading into Aluminum. HOWEVER THE MOST IMPORTANT THING TO REMEMBER WHEN TORQUING MARINE EXHAUST PRODUCTS IS TO PERFORM IN A UNIFORM PATTERN IN ABOUT 2-3 SEPARATE SEQUENCES. 1) 5 LB-FT FOLLOWED BY GOING ON UP TO 10 – 15 LB-FT THEN FOLLOWED BY TAKING THE TORQUE UP TO THE FINAL RATING. THE TORQUE SHOULD THEN BE CHECKED AFTER RUNNING THE ENGINE FOR 30 MINUTES THEN AGAIN AFTER 20 HOURS. Never use anti-seize type products on bolts or studs as this can allow for loosening of the parts.

Studs: To prevent studs from backing out and causing leaks which can cause engine damage, use red thread locking compound. Follow the manufacturers recommendations for their installation and removal. Do not use anti-sieze on bolts or studs as it is a lubricant and will cause fastener to back out.

PIPE PLUGS AND FITTINGS:
When installing pipe fittings or pipe plugs into the exhaust manifolds or risers care must be taken to avoid over-tightening. Pipe plugs and fittings are tapered and an overly tight pipe plug or fitting can crack the casting. Do not use thread sealants which contain Teflon. Do not try to screw the plugs in flush with the casting, they only need to be snug.

GASKET PLACEMENT: In some applications the riser gasket alignment is critical. Improper installation of the gasket can cause the engine to have an overheating concern. The following is a list of these gaskets and how they should be aligned: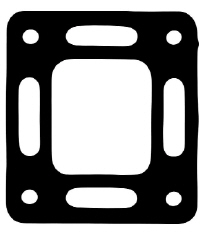 4 Slot open style gasket used in Mercruiser application during the mid-90's and allows for full coolant flow from the manifold into the riser. This gasket is typical to what is used on cold manifold style exhaust/cooling systems. To read more about warm versus cold manifold systems, select this link.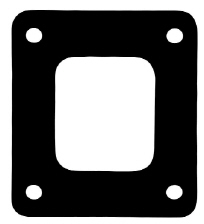 Closed gasket used in Fresh Water Cooling applications. This gasket is used to contain the anti-freeze in the exhaust manifolds along with FULL Fresh Water Cooling systems. To read more about 1/2 versus full closed cooling systems, select this link.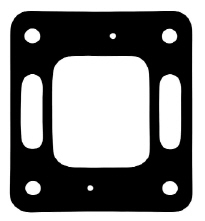 Restrictor gasket used in Mercruiser applications during the 80's and early 90's. This gasket is used with "warm manifold" style raw water cooling systems. To read more about warm versus cold manifold systems, select this link.
Marine Exhaust – KEEL COOLING:  Keel Cooling is often installed incorrectly and can cause manifolds to crack internally from excessive heat. Do not install exhaust manifolds into keel cooled systems that rely solely on the water circulation pumps with a small diameter pipe for its circulation. This is not satisfactory and will overheat the exhaust manifolds.