How to Determine Boat Engine Rotation
Left Hand (LH) rotation is considered to be standard while Right hand (RH) is considered an "Opposite" rotation. You should ALWAYS view the the engine rotation while standing behind the engine and looking at the flywheel. 
A LH engine spins CCW (Standard Rotation)

A RH engine spins CW  (Opposite Rotation)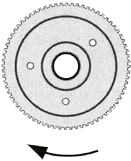 IMPORTANT: It is extremely important to note that engine and propeller rotation are not one and the same. In most cases the propeller rotation will differ from the engine rotation due to the gearing.
A few of the older, "Iron-Body" transmissions with specific ratios would turn either direction.  But, in general, when standing at the back of the boat looking forward, with a single STD Rotation (LH/CCW) engine, most of the transmissions turned CW (opposite of the engine).  This is the same as the sterndrives and these applications require a RH prop (if the driver is on the right-hand side, this compensates for "boat role" due to the driver weight).

For twins, the RH prop is normally the STBD and the LH is the Port, 'OUT' (although this probably doesn't make much difference for inboards but this gives the best steering control for sterndrives).  Typically rotating the props 'IN' allows a little more top speed but less overall vessel control.
Tags: engine rotation, marine engines