Wednesday, February 15th, 2012
Topic: Marine Water Pumps & Engine Cooling System Overheat Diagnosis
Question #1: My Marine Engine is overheating. What can I check to try and isolate the problem?
Response: Marine engine overheating can result from a number of different causes. This article will break down the most common problems and associated fixes.
MerCruiser Diagrams: See various part diagrams for Alpha Sterndrive models with water pump impeller located in the lower unit as well as the Bravo Sterndive models where the Sea Water Pump Impeller is mounted within the engine mounted Sea Water pump. View Diagrams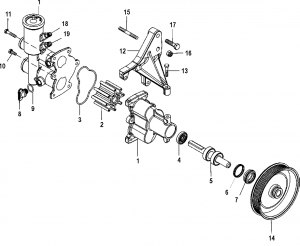 Step #1: Verify that the temperature gauge is reading accurately. Bad gauges are one of the most common causes of problems. In our opinion no boater should be without an IR-Thermometer on board the boat at all times. You can shoot the temperature of the thermostat housing which should tell you whether the temperature that the gauge on the dash is reading is accurate or not.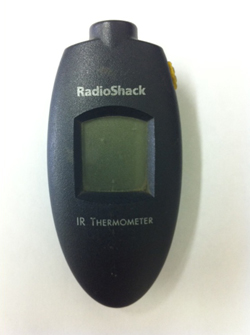 Step #2: Remove the thermostat housing and verify that nothing is stuck in the thermostat and preventing it from opening properly. Although thermostats can fail this is normally NOT the cause of most overheat related problems.
Step #3: Replace the Sea Water Pump Impeller (Watch "How To" Video)
Impellers should be replaced every other year. It is important to realize that even with a new impeller just a small amount of "scoring" to the pump body can effect the output flow of the pump significantly. If you are replacing the impeller due to overheat issues versus routine maintenance, go ahead and replace the pump body as well.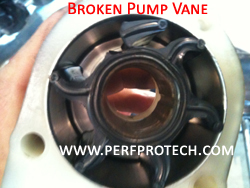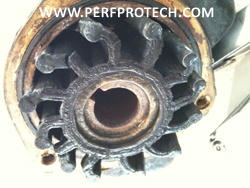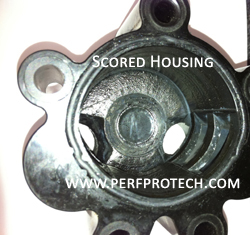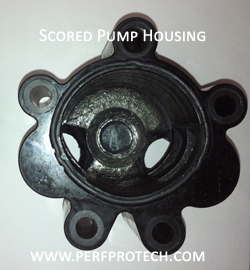 Step #4: Verify there are no restrictions to the water flow going to the engine. Common causes of restriction are grass, weeds, and the remains from previous water pump impellers that come apart resulting from overheating. If your engine is equipped with an oil, power steering, fuel or engine cooler these will most likely be the areas for debris to become trapped. You should remove the hoses from the thermostat housing to the supply pump outlet as well as the pump inlet hose and backflush all the way out of the sterndrive to ensure there are not any restrictions.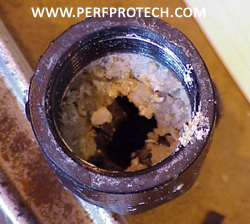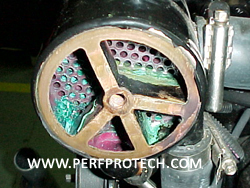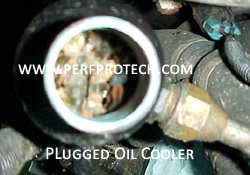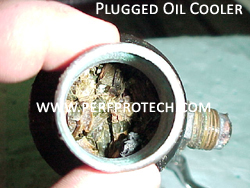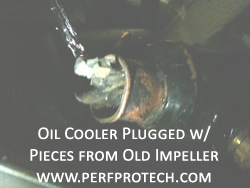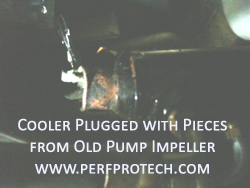 Step #5: Make sure that there are no leaks on the inlet side of the water pump that would allow the pump to draw air and therefore cavitate. This could be from loose hose clamps, bad sealing, etc. On Mercruiser Alpha models this could be an imporperly sealed pump housing in the sterndrive that draws air once the boat is up and running on plane. On Bravo models this could be a non-sealing pump housing or loose connections on the inelt water hose.
Link to Impellers and Impeller pumps store category