Friday, October 10th, 2014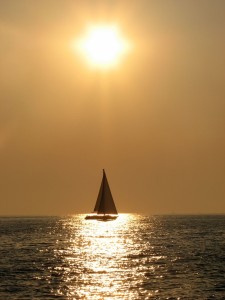 Vinyl is a durable, waterproof material that's frequently used in the production of boat seats. Like most synthetics, however, it's susceptible to the damage when exposed to sunlight over long periods of time. It's not something that happens overnight, but years of exposure will gradually eat away at the vinyl boat seats, causing them to fade, dry out, and even crack in severe cases.protect-vinyl-seats-01
Periodically cleaning and caring for your vinyl boat seats, however, will prolong their life, protecting them against the sun's damaging ultraviolet ray. Here, we're going to reveal some simple and effective ways to protect vinyl seats from sun damage.
Keep 'Em Covered
Keep your boat seats covered when they aren't being used. The longer they are exposed to the sun, the greater the risk of damage occurring. The sun will slowly cook the seats until they fade and crack, at which point you'll be forced to reupholster or replace them.
Covering them will offer a barrier of protection against the sun's damaging rays, keeping your seats safe and sound when they aren't being used. If you don't have access to a garage or shed to store your boat, perhaps you can use a mooring cover, or even toss some covers over the seats. Most boating supplies stores sell seat covers for about $40-$50 bucks.
Cleaning
Cleaning your vinyl boat seats on a routine basis will reduce the risk of sun damage. With that said, you should avoid bleach or other generic chemical-based household cleaners, as products such as this may cause further damage. A solution of wash water and mild dish soap should do the job without placing your seats at risk for damage. If you do choose to use a chemical based cleaner, be sure to be aware of the ingredients of the cleaner, and make sure those ingredients do not harm vinyl over time.
Apply a Vinyl Protectant
Arguably, the single most important step in protecting vinyl boat seats from sun damage is to apply a vinyl protectant. There are dozens of different products made specifically for treating and protecting vinyl boat upholstery. These products work by creating a wax-like film on the seats, which both conditions the seats and acts as a barrier of protection against sun damage.
Vinyl protectant is applied by spraying a list mist over the seats and gently rubbing it in with a clean washcloth or paper towel. Take your time when applying the vinyl protectant and make sure to cover every square inch of your seats. Most products recommend waiting 30 minutes after application to allow the protectant to settle inside the vinyl's pores.