Wednesday, October 23rd, 2013
A boat is probably the last thing one might think that someone would want to vandalize, unless of course the boat owner is just not a nice person. However, today, we've got an interesting news story for you concerning boat engines.
According to a report published by the UK online magazine, The Engineer, a brand new device is available to the public that can help someone do just that – vandalize a boat – well, a boat engine, anyway. If you have one of those boats on which you spent your life savings or mortgaged your home to make the payments, then you'll want to keep reading because this new device apparently works so well that it can disable your boat engine, and leave you sitting in the water indefinitely.
New RF Device Disables Boat and Car Engines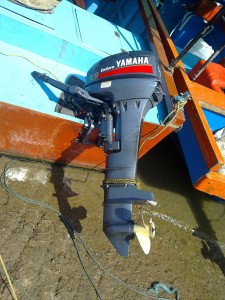 The company that developed the device, E2V, calls the device a "non-lethal weapon," but if you ask any boat owner , anything that damages their "baby" is a lethal weapon, whether it actually is or not. In this case, the "non-lethal" weapon in question is called RF Safe-Stop, which works to disable the engine of boats and cars. It is such a powerful device that the person using it only has to be 50 meters away or closer for it to work, and it disables the engine in fewer than three seconds.
Already been made available on the Nissan Nevara and Toyota Land Cruiser vehicles, the company states that the dev ice can be fitted into rib-type boats as well. There are also ideas in the work to make blueprints for the device so the RF Safe-Stop can fit into helicopters as well, claims e2v product manager, Andy Wood.
The RF Safe-Stop device weighs about 150 pounds, and is designed to "safely" stop a vehicle from working temporarily, although the company claims that it could be "particularly suited to stopping vehicles suspected of being used as car bombs." If you  think about the device in such a manner, then it is possible that one could apply the same device to stop boats suspected of smuggling drugs or people across the international waters as well.
How Does the Device Work?
Because it is a device that works on radio frequencies, the device works by pulsing the frequencies towards the vehicle, which should "confuse a vehicle's electronics," resulting in the electronics be made inoperable on a temporary basis. Because the electronics stop working, the engine should stall as a result, although Wood admits that:
"At the weight of frequencies we're talking about – L and S-Band – the wiring loom of, say a metre…is almost the perfect aerial."
This essentially means that the device will not work the same way on every engine, though the principle of what it does it the same.
In any case, a number of governments have expressed interest in the devices, in addition to 17 different countries, so we could start seeing them installed in Coast Guard cutters and police cruisers as soon as next summer. Let this serve as a warning that if you are doing anything you shouldn't with your boat to give up your activities now, before the coast guard gets a chance to catch you with their newly installed devices.