Friday, October 10th, 2014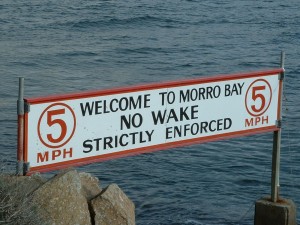 No wake zones are typically set up around docks, boat launching ramps, beaches, piers, bridges and recreational areas to protect the public against injury and, in some cases, to protect sensitive wildlife and ecosystems. Just as their name suggests, no wake zones prohibit boat operators from producing wakes. While this definition may sound simple enough, first-time boat owners are often confused by the presence of these signs.
Understanding The Definition of a 'No Wake' Speed
First and foremost, it's important to note that some cities, counties, states and municipalities have their own definition of no wake speed. For instance, the Tennessee Wildlife Resources Agency defines "no wake speed" as "any vessel traveling at or below idle speed, or at such speed that the boat or its wake (waves) is not sufficient to cause possible injury or damage to other persons, boats, or property."
Technical jargon aside, most "no wake speeds" are speeds of 5 miles per hour (mph) or less at which the boat does not produce a wake. Speeds in excess of 5 mph is strictly prohibited in no wake zones, as it can cause injury to people and damage to boats and property. The boat owner can be held liable for any injury or damage caused as a result of his or her wake in a no wake zone.
No Wake Zone Boating Tips:
Just because wake zones have a 5 mph speed limit doesn't necessarily mean that boaters should travel at this speed. In some cases, boats traveling at just 4 mph can produce a wake.
Don't want until you reach the buoy or sign indicating the presence of a no wake zone to slow down. Instead, reduce your speed ahead of time so you are traveling at no wake speed you enter the area.
In heavily congested no wake zones, use hand signals to communicate the right of way between other boaters.
Use caution when boating through shallow waters, as this typically results in larger wakes.
Encourage passengers on board your vessel to remain still while traveling through no wake zones. Increased movement will result in larger wakes.
Don't underestimate the wake-producing power of small boats.
If you notice a wake approaching, try to hit it at an angle rather than directly on the bow of your boat.
Familiarize yourself with any special rules and regulations regarding no wake zones in the body of water on which you are operating.