Friday, July 11th, 2014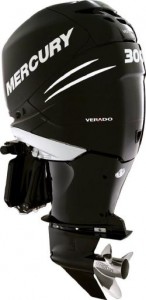 When you are out in the great deep blue, a consistently reliable outboard is a must, and Mercury Marine is a name you can trust. With 75 years of experience in the industry, Mercury Marine is dedicated to providing the most reliable and efficient outboards in the world.
Durability
The Mercury Verado includes the patented long bolt engine design which keeps the powerhead in a constant state of compression, rubber that dampens the vibration of it engine, a fully filtered air intake to protect the internal components of the outboard, and an advanced anti-drainback oil system to ensure proper lubrication every time.
Safety
All Mercury Verado outboards come with the engine guardian system to ensure safety at all times. the engine guardian uses 40 different sensors to monitor all functions of the engine. It prevents overheating, over-revving, low oil pressure, and much more. As soon as a problem is detected the guardian can reduce engine power but leave enough to allow you to return to shore safely.
Superior Holeshot
With enough power to move from a complete stand still to being thrown back in your seat, it is easy to tell the superior acceleration and hole-shot that is featured with all Mercury Marine engines. Mercury Verado outboards come with a charge air cooler which allows cooler air to come from the supercharger, providing a more complete combustion for even more power.
Fuel Efficiency
Mercury Marine Verado outboards are a step above the competition in fuel efficiency as well thanks to the power of cooled air Mercury outboards are above the industry by 40 to 60 miles per tank.
If you have any questions regarding outboards or any other kind of marine technology, contact us.