Thursday, February 20th, 2014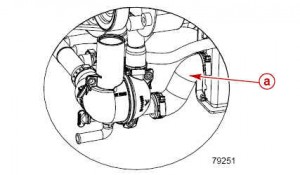 Question: Can you explain what the purpose is for Mercruiser's Water Distribution Housing most of the Marine Engines are being equipped with today?
When popping the engine hatch and looking at the front of a typical Marine Engine today, one can't help but notice the abundance of cooling system hoses the engines are equipped with these days. On the surface it seems much like just about everything in our lives where things just continue to get more and more complicated while finally reaching a point that the typical do-it-yourself garage mechanic can no longer service his own products.  In the case of Mercruiser's Water Distribution Housing while the feature does add complexity in one aspect it does simplify things in another.
Even as far back as the early 1980's Mercruiser had the desire to develop a Marine Engine equipped with an automatic draining cooling system. The Mercruiser 3.7L 470 Marine Engine, while not equipped with an automatic draining cooling system did in fact have many of the features that lead to the systems in place today. While an automatic draining system sounds fairly doable on the surface the typical issues of cost, liability, etc always stood in the way from allowing them to accomplish this feature. The main concern with an automatic draining cooling system was the liability that arises from any resulting freeze damage. The existing approach puts the responsibility of th owner to visually verify if complete draining is occurring from each drain location. If any question arises as to whether or not complete draining is occurring the owner is to use a small screw driver or piece of wire to clear out any obstructions to the drain. With an automatic system this responsibility then falls back on the manufacturer however even if the drain valve itself operates correctly the issues still remained that the drain hole could be obstructed by debris, etc. Therefore in the late 1990's and early 2000's Mercruiser set out to develop a better cooling system with regards to ease of draining. While these latest systems are not completely automatic they do in fact allow draining without the common challenges of standing on your head while removing block drain plugs, manifold hoses, etc. Mercruiser offers several different Drain System options including the multi-point drain, the single point drain, as well as the air actuated single point drain…READ MORE
Select this link to read more about other related drain system patents…..READ MORE