Monday, June 23rd, 2014
Models Affected
All MerCruiser models with Thunderbolt IV ignition systems.
Situation
Replacement Thunderbolt IV ignition control modules (ICMs) no longer come with the adapter harness (15275A1). This adapter harness was required when replacing an original Thunderbolt IV ICM with a second‑generation Thunderbolt IV ICM. Second‑generation Thunderbolt IV ICMs are still available (without the adapter harness).
Correction
New module and harness kits are available as service replacement parts for the original Thunderbolt IV ICM. Engines with second‑generation Thunderbolt IV ICMs that have a damaged harness will also require the new ICM and harness kit.
Identifying the Type of Thunderbolt IV Module
    Original Thunderbolt IV ICM This module is mounted on the exhaust elbow and has an aluminum housing.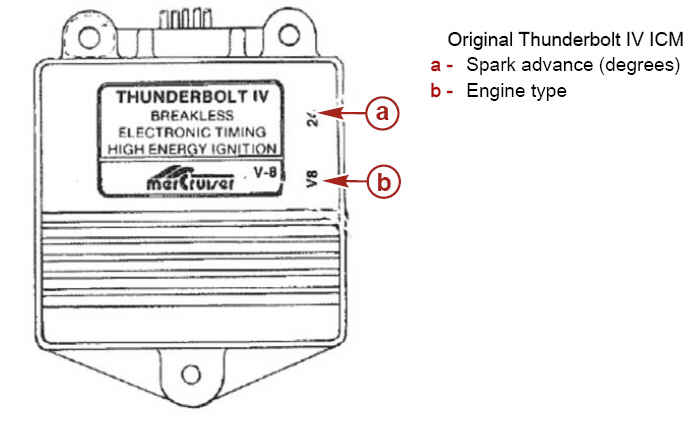 Second-Generation Thunderbolt IV Ignition Control Module This module is mounted on a triangular plate and requires the use of adapter harness 15275A1.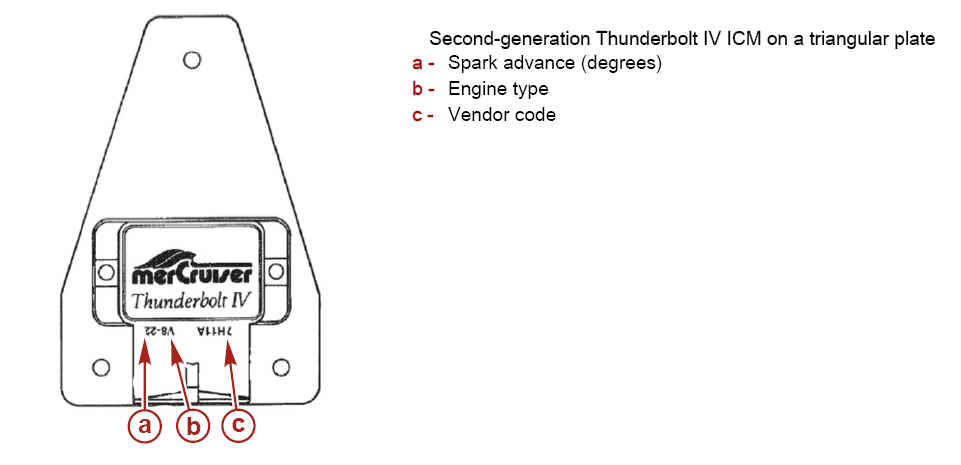 IMPORTANT: Adapter harness (15275A1) is no longer available from the manufacturer. If this harness is damaged and needs to be replaced, a new ignition control module and harness kit must be ordered.
    Ordering Replacement Modules and Module Harness Kits
Use the engine serial number and the MerCruiser Electronic Parts Catalog to determine the appropriate ICM or ICM harness adapter kit for your engine.
| | | | | |
| --- | --- | --- | --- | --- |
| Engine | Stamp on Module | Previous Thunderbolt IV ICM Kit | Second‑Generation Thunderbolt IV ICM (without adapter harness) | Replacement ICM Conversion Kit (includes harness adapter) |
| 1987-1993MCM 4.3L Engines | V6-14 | 15247A1 | 15247T01 | 15247T02 |
| 5.0L, 5.7L & 7.4L Engines | V8-24 | 15248A1 | 15248T01 | 15248T02 |
| 5.0L & 5.7L Engines | V8-22 | 15899A1 | 15899T01 | 15899T02 |
| 5.7L & 525 SC | V8-22A | 814295A1 | 15899T01 | 15899T02 |
| 5.7L Engines | V8-24S | 821125A1 | 821125T01 | 821125T02 |
| 502 Mag, 8.2L, 600SC & 800SC | V8 20R | 817509T | 817509T | 817509A10 |