Friday, October 17th, 2014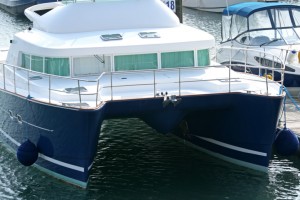 Horn signals are used to communicate between two or more boats in a given body of water. If there's a thick fog obstructing the captain's vision, for instance, he or she may be forced to rely on audible methods of communication to alert nearby watercraft. Using a whistle, horn or bell, a captain can effectively communicate his or her position while informing others of the boat's intended direction.
Short blast – defined as a horn blast lasting approximately one second.
Long blast – defined as a horn blast lasting approximately four to six seconds.
Horn signals can be used to indicate a number of different actions, the most common being a pass on the port side. If a boater blows the horn for one second, it tells the other nearby boat that he or she intends to pass on their port side (which is the left side, by the way). This is generally the preferred method for passing when two boats are headed directly towards each other.
Two short horn blasts lasting four to six seconds each signals a passing on the starboard side (right side). Again, passing on the port side is recommended, but there are occasions when this isn't always feasible, such as instances when there's a dock, debris or other boats on this side.
If a boater uses three short blasts, it signals to other boaters that he or she is planning to back up the watercraft in reverse. This is important because the captain may not be able to see what's behind his or her boat; therefore, using a horn alerts other boaters and even swimmers that the watercraft is backing up.
Of course, there are several other horn signals worth noting as well. One long blast followed by two short blasts is a signal reserved exclusively for sailing vessels. A single long blast is used as a general warning signals, alerting other boats and swimmers to the watercraft's presence.
What should you do if you don't know the intent of another boater? There's actually a horn signal for this: make five short bursts. This is a general danger signal that's commonly used by captains who don't know what a nearby boat is planning to do. By blasting the horn five short times, it will alert the watercraft, at which point the other captain will hopefully issue a response.
For more information on the U.S. Coast Guard's rules regarding horn signals, visit http://www.navcen.uscg.gov/?pageName=navRulesContent.