Wednesday, April 8th, 2015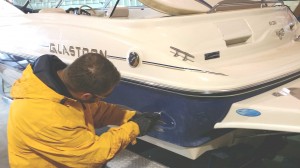 "There's nothing quite as nerve racking as cutting a hole in the side of a perfectly good boat"
Whether you're on the never ending quest looking for more Horsepower or you simply like the "rumble" sound of the big block V8 Marine Engine,  cutting that hole in your boat can be well worth it. It's not very often you run across a boater that claims the engine in his boat produces enough horsepower and they therefore wouldn't want any more. Thru-Hull Marine Exhaust Systems are a great way to open up the typical restrictive Marine Exhaust system and let the engine perform like it would prefer.
WELL BEFORE MAKING THE CUT
Making the initial "cut" into the boat is not something you should be afraid of but it is not something that should be taken lightly or without planning. Long before you make the first cut into the Boat Hull you will need to investigate the various options of Thru Hull Exhaust Systems available for your particular model of boat. When you're talking about a standard model late 90's Baja with a Small V8 Mercruiser Engine the systems are pretty straightforward. However with the various models of boats being produced today these are just a few of the factors that play into determining which system will work for you;
Swim Platform
Sterndrive vs Inboard
Does the Engine Exhaust System have a Catalyst System?
Does the Engine Exhaust System have spacers between the manifold and riser?
Does the Boat Hull have the needed real estate to install the Exhaust Tips be those rear or side exit tips?
Does the engine compartment have features that might interfere with the exhaust hose routing?
VERIFY YOUR BOAT MODEL
We always recommend sending in your boat and engine model specifications as outlined in the following Thru-Hull Marine Exhaust Systems technical article. In most cases Corsa Performance Exhaust Systems can verify your boat model against their database of existing installations to verify if there's a standard off-the-shelf kit available or whether a new custom kit might need to be measured and produced. This cuts down on a significant portion of the up front measuring, etc customers used to be required to do several years ago. This step has not been totally eliminated rather in many cases it is avoided by verifying the information detailed above.
ONCE YOU HAVE YOUR NEW SYSTEM IN HAND
Now that you've received your Thru Hull Exhaust Kit you'll want to unpack the contents and verify everything. It's important to layout all of the contents and start measuring the location of where the Exhaust Tips are going to be installed. One of the key steps in getting these systems installed correctly is laying everything out ahead of time to ensure clearance and fit.
NOW YOU CAN FINALLY MAKE THAT FIRST CUT………HAVE FUN!!