Friday, October 17th, 2014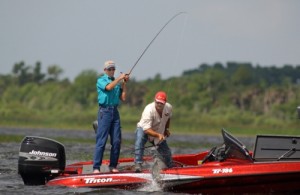 Owning a bass fishing boat opens up a whole new world of possibilities for recreational anglers. Rather than being restricted to the shores and docks, you can venture out onto the water for the ultimate freedom to fish where YOU want. This freedom means you'll have more options when choosing a fishing location, which subsequently translates into a higher level of success.
Livewell
A livewell is a "must-have" accessory for any bass fishing boat, as it keeps your fish alive while you enjoy the remainder of your day on the water. These otherwise simple storage containers work by pumping fresh water from the surrounding lake or pond into the tank while using an aerator to fill it with oxygen. This mimics the natural habitat of the fish, keeping them alive while you continue to fish.
When shopping for a new bass boat make sure it contains a medium-to-large-sized livewell. There's nothing more frustrating than throwing fish back because your livewell is full. A good rule of thumb when using a livewell is to provide every one inch of fish with one gallon of water.
Swivel Seats
360-degree swivel seats are ideal for bass fishing. Sitting atop a swivel seat will allow you to cast in all directions with greater power and accuracy – elements that are essential to a successful fishing excursion.
Most swivel seats are interchangeable between bass boats, so replacing them is a quick and easy process. Assuming the seat mount is already installed on the bass boat, you can easily add or replace the current seats with new ones.
Trolling Motor
Bass frequently bed and feed in shallow waters of just a few feet deep. Traversing waters such as this with an outboard gas motor is just asking for trouble since the propeller may strike the bottom. Having the option to switch over to a trolling motor, however, will allow you to safely traverse shallow waters to access those "hot" fishing holes.
Note: some municipals reservoirs and lakes prohibit the use of gas-powered motors. Depending on the area's rules, you may still be able to traverse it using an electric trolling motor. Just remember to keep your battery charged so it's ready to go.
Rod Holders
We really can't talk about bass fishing boat features and accessories without mentioning rod holders. Tossing your rods on the boat deck is a bad habit that will leaves your rods susceptible to damage, which is where rod holders prove useful: you can stand your rods upright in a secure holder (usually mounted on the side of the boat), protecting from being stepped on or rolling off the boat.