Monday, February 2nd, 2015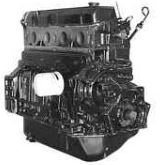 Customer Question: I have a 1980 19″ Glasply with an MCM 470 ser# and a Mercrusier sterndrive ser#. I'm looking to re-power and also replace the stern drive. What are my choices /options? I was thinking a 4.3L but then saw the 3.0L 4cyl and it would seem to fit the hull better.a Any help would be appreciated.
PPT Answer: Re-powering the older 3.7L engines can be a complicated situation due to the torque vs engine configuration with the 470 Marine Engines. Therefore we've put together a short tech article that addresses the typical challenges and options available. Using the link below you can read this article and see a few options.
What Options are Available When Replacing the Older 470 Marine Engines……Read More
Regards
Performance Product Technologies/IShopBoating
8002 West 6th Street
Stillwater, OK 74074
(405) 533-3812
Fax (775) 257-1769
[email protected]
www.perfprotech.com