STARBRITE XTREME CLEAN GALLON (83200N) (#74-83200)
Part #: 74-83200
For shipping estimate:
Add to cart then visit your shopping cart to see shipping options and costs.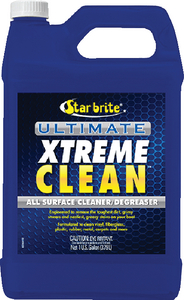 XTREME CLEAN GALLON
XTREME CLEAN GALLON
The ultimate all-purpose, all-surface, use-anywhere cleaner. Removes the toughest dirt and greasy stains, even on tough-to-clean textured surfaces. The special chelating agents break the bond that holds dirt or stains to surface without heavy scrubbing. Cleans fiberglass, vinyl, plastic, metal; ideal for boat, car and truck use. Phosphate-free; safe for use on or near the water.
Super Spray Boat Cleaner, Gal.
An all-purpose heavy duty cleaner formulated to whisk away grime, grease, oil, fish blood and stains. Simply spray-on and wipe-off. Use on fiberglass, metal, painted surfaces, vinyl and formica.
Description

Ultimate Xtreme Clean

Size

Gallon

Case

4
---