SCANDVIK LED G4 BULB - 3 WATTS (41072P) (#390-41072P)
Part #: 390-41072P
For shipping estimate:
Add to cart then visit your shopping cart to see shipping options and costs.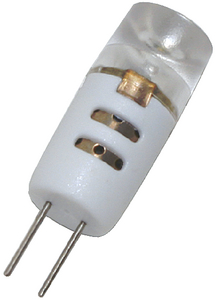 LED G4 BULB - 3 WATTS
LED G4 BULB - 3 WATTS
LED Replacement Bulbs
Replacement LED in clamshell.
Multi-Voltage 10 - 30 VDC (works with 12V and 24V).Replacements for popular G4, Bayonet and Festoon bulb base types.
High output SMD 5050 LED's (similar or brighter than comparable halogen or incandescent bulbs).
60% plus more efficient (low amp draw).
Low temperature, cool to the touch.
Trade #

10W or 20W

LEDs

1

Watts

1.50

Amps

.13

Type

G4 Bottom-Pin Halogen Bulb Look-A-Like (HLA)

Color

Warm White
---