Mercruiser 5.0L/5.7L/6.2L Cast Iron Exhaust Manifold & Riser Kit (#EK-MERC-SB-NC-NS)
Part #: EK-MERC-SB-NC-NS
For shipping estimate:
Add to cart then visit your shopping cart to see shipping options and costs.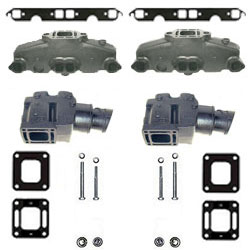 NORMALLY SHIPS IN 1 DAY!
Exhaust kit for a Mercruiser small block V8 engine. This kit includes the manifolds and risers along with the gaskets and mounting kits necessary for installation.
NOTE: If you currently have stainless steel risers you will need to order the updated Remote Oil Bracket and fasteners to upgrade to the later riser design that is included in this kit.
NOTE: Do not use stainless steel or grade 2 bolts to install the risers or elbows. These bolts are too soft and will not hold a torque setting, which can cause leaks at the gasket surface. Bolt torque should be reset after initial startup, while the engine is still warm. Refer to your original manufacturer's engine service manual for specific torque settings.
As a rule of thumb we suggest 23 Lb-Ft for a 3/8 lubricated fasteners threading into cast iron, 26 Lb-Ft for a 3/8 dry fasteners threading into cast iron and 18 - 20 Lb-Ft for 3/8 fasteners threading into Aluminum.
HOWEVER THE MOST IMPORTANT THING TO REMEMBER WHEN TORQUING MARINE EXHAUST PRODUCTS IS TO PERFORM IN A UNIFORM PATTERN IN ABOUT 2-3 SEPARATE SEQUENCES. 1) 5 LB-FT FOLLOWED BY GOING ON UP TO 10 - 15 LB-FT THEN FOLLOWED BY TAKING THE TORQUE UP TO THE FINAL RATING. THE TORQUE SHOULD THEN BE CHECKED AFTER RUNNING THE ENGINE FOR 30 MINUTES THEN AGAIN AFTER 20 HOURS.
Never use anti-seize type products on bolts or studs as this can allow for loosening of the parts.
Studs: To prevent studs from backing out and causing leaks which can cause engine damage, use red thread locking compound. Follow the manufacturers recommendations for their installation and removal. Do not use anti-sieze on bolts or studs as it is a lubricant and will cause fastener to back out.
Detailed Part List:
| | |
| --- | --- |
| Manifold: | 18-19532 |
| Riser: | 18-19762 |
---