JR PRODUCTS SHWR ST W/GRD LN SN R.P.W (9495-211-022) (#342-9495211022)
Part #: 342-9495211022
For shipping estimate:
Add to cart then visit your shopping cart to see shipping options and costs.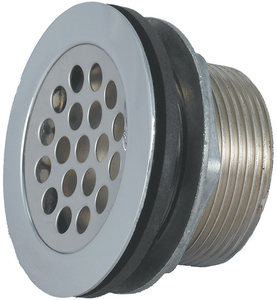 SHWR ST W/GRD LN SN R.P.W
SHWR ST W/GRD LN SN R.P.W
This all purpose shower strainer is the perfect replacement for any area where a plug is not needed. The steel grid keeps items from entering your plumbing system and is easily cleaned. The grid is removable if access is needed to the plumbing. Fits up to a 2" drain opening. Made of die cast steel.
Description

Strainer, Grid, Locknut, Slipnut, Rubber Washer & Plastic Washer, pkg.
---