Mercury Mercruiser Marine - FILTER-FUEL @3 (#35-816296Q2)
Part #: 35-816296Q2
For shipping estimate:
Add to cart then visit your shopping cart to see shipping options and costs.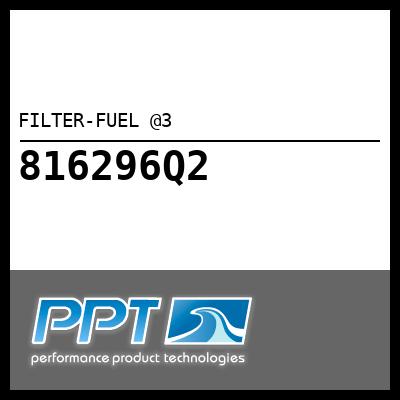 W9 IN-LINE FUEL FILTER-5/16-@3

35-816296Q03: In-line fuel filter used with 1/4 in. ID fuel line. Located under the cowling, on the outboard engine. Found in use with 1/4" hose. Mainly used with the 8/9.9/15 hp. FourStroke outboard (323cc).


| | |
| --- | --- |
| Fits | 5/16": Outboard In-line |
---
Mercury Assemblies
MERCURY70 (3 CYL.)

MARINER75 (3 CYL.)

MARINER80 (3 CYL.)

MARINER90 (3 CYL.)

MARINER75 (4 CYL.)

MARINER115 (6 CYL.)

MARINER90 (6 CYL.)

MERCURY50 (3 CYL.)

MERCURY60 (3 CYL.)

MERCURY45 (4 CYL.)

MARINER100 (4 CYL.)

MARINER115 (4 CYL.)

MERCURY250/275

MERCURY30 JET

MERCURY40 (4 CYL.)

MERCURY65 JET

MERCURY105 JET

MERCURY140 JET

MARINERMAGNUM III

MERCURYV-135

MARINERV-150

MARINERV-175

MERCURYV-200

MERCURYXR-6

MERCURY40 (4-STROKE)

MARINER45 BODENSEE (4-STROKE)

MERCURY50 (4-STROKE)

MERCURY50 BIGFOOT (4-STROKE)

MERCURY225 (3.0L CARB)

MARINER225 MARATHON (3.0L CARB)

MERCURY225 SEAPRO (3.0L CARB)

RACE OUTBOARDMERC/MAR XR2/MAGNUM

MERCURY30 JET (3 CYL.)

MERCURY40 (3 CYL.)

MERCURY60 (3 CYL.) BIGFOOT

MARINER125 (4 CYL.)

MARINER80 JET

MERCURY35

MERCURY45 JET

MERCURY55 (3 CYL.)

MARINER20 (2 CYL.)

MARINER25, 25 MARATHON, SUPER 15 (2 CYL.)

MERCURY25, 25 SEA PRO, SUPER 15 (2 CYL.)

MERCURY65 JET (3 CYL.)

MERCURY40 JET

MERCURYV-140 (INTERNATIONAL)
---