FASTENERS UNLIMITED LED TAIL LIGHT W/ BRACKET (003-81LM1) (#203-00381LM1)
Part #: 203-00381LM1
For shipping estimate:
Add to cart then visit your shopping cart to see shipping options and costs.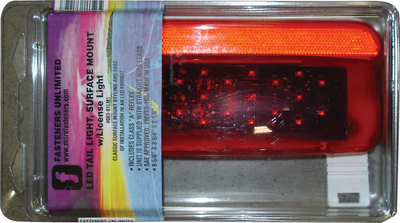 LED TAIL LIGHT W/ BRACKET
LED TAIL LIGHT W/ BRACKET
Tail Light, surface mount, LED, w/license light, Black. Classic surface mount styling and ease of installation in an LED format. Includes Class "A" reflex. License plate lighting is incandescent. Unit is supplied with straight wire leads. SAE approved, FMVS-108. Made in USA. 8 5/8" x 3 3/4" x 2 1/8"
---