WINEGARD CO RAYZAR AMP PORT INDOOR ANTENNA (RV-RZ85) (#401-RVRZ85)
Part #: 401-RVRZ85
For shipping estimate:
Add to cart then visit your shopping cart to see shipping options and costs.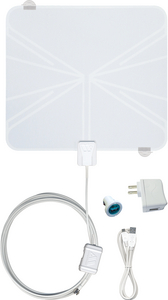 RAYZAR AMP PORT INDOOR ANTENNA
RAYZAR AMP PORT INDOOR ANTENNA
Winegard is once again revolutionizing the way you receive free local broadcast TV. Weighing a mere .34 lbs, the Rayzar is no lightweight in performance. Embedded with an advanced and powerful low noise amplifier, this ultra-thin indoor antenna delivers all the top rated local broadcast programming in crisp, clear HD, with no monthly programming fees! Includes 2 suction cups for easy placement and repositioning which also means no permanent installation or assembly is required! Rayzar antenna is ideal for campers or recreational vehicles with minimal or unlevel roof space, tailgating and other outdoor activities. Hang it up or lay it flat wherever signal is the strongest, run a channel scan and you?ll be watching the top rated shows in minutes. Black on one side/white on the other. Includes attached 18.5? mini 59 coax cable, a 3' USB power cable, plus 110V and 12V adapters. Measures 12" x 13". U.S. Patent D656,131. 90 day limited warranty. Made in the USA.
---