THE MOBILE OUTFITTERS (LIPPERT) 12X2 LH ELECTRIC BRAKE 7.0K (296651) (#804-296651)
Part #: 804-296651
For shipping estimate:
Add to cart then visit your shopping cart to see shipping options and costs.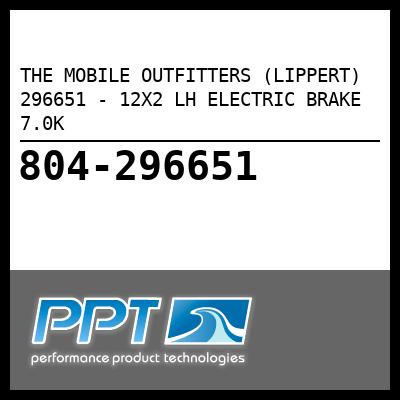 12X2 LH ELECTRIC BRAKE 7.0K
12X2 LH ELECTRIC BRAKE 7.0K
The all new Forward Self Adjusting brakes provide optimal braking performance and enhanced brake lining and magnet wear. The brakes automatically forward adjust with every stopping motion to ensure proper braking and increased safety. No manual adjustment is needed and maintenance costs are lowered. Have peace of mind knowing that at 60 mph your braking will improve by 50%. Complete Kit includes backing plate, shoe and linings, magnet, actuating lever, adjusting screw, spring hardware, sealed wire connectors, and mounting fasteners.
Description

12" x 2" Left Hand
---