STROMBERG CARLSON PR SOFT TOUCH RAILS BLACK (AH-150) (#375-AH150)
Part #: 375-AH150
For shipping estimate:
Add to cart then visit your shopping cart to see shipping options and costs.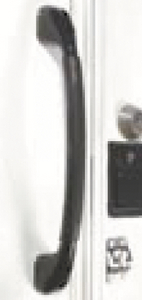 SOFT TOUCH RAILS BLACK
SOFT TOUCH RAILS BLACK
The Soft Touch is traction for your hand. It's nice to grab a handle instead of jamming your hand behind a plastic or aluminum strap when entering or leaving your coach. The Soft Touch handle is friendlier to the touch than a hard slippery acrylic post. The Soft Touch molded finger grips add comfort to this handle you'll use dozens of times a day.
Description

Black w/black grip
---