Sterndrive - Mercruiser p/n 5331600TP, Bravo 2, 2.00 (#SD-B2200)
Part #: SD-B2200
For shipping estimate:
Add to cart then visit your shopping cart to see shipping options and costs.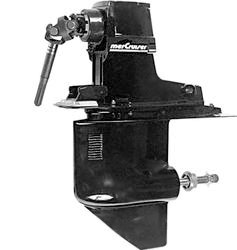 A new Mercruiser Bravo Two sterndrive.
NOTE: We have both the NEW design and OLD design sterndrives available for the same cost. Please specify which design when ordering.
Specifications
Gear Ratio
2.00:1
Propeller Hub Type
Flo-Torq II
Rotation
Standard
Max HP Capacity
400 HP
Max Prop Diameter
20"
Compatible Engines
4.3L TKS
350 Mag
5.0L TKS
350 SeaCore
5.7L TKS
377 Mag
4.3L MPI
377 SeaCore
4.3L SeaCore
496 Mag
5.0L MPI
496 SeaCore
5.0L SeaCore
496 Mag H.O.
5.7L MPI
496 H.O. SeaCore
5.7L SeaCore
---