SIERRA DOCKING LIGHT SET- 12V WHITE (95001) (#11-95001)
Part #: 11-95001
For shipping estimate:
Add to cart then visit your shopping cart to see shipping options and costs.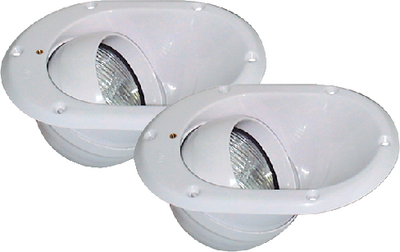 DOCKING LIGHT SET- 12V WHITE
DOCKING LIGHT SET- 12V WHITE
Protect your boat from damage while docking at night. 30,000 cp. bulb illuminates below the deckline. Makes nightime docking safe & easy. Housing is fully sealed and the eyeball can be aligned and changed from the exterior. Water cannot enter hull through docking light. Intended for docking only; not for continuous use. Includes a mil-spec sealed waterproof rocker switch panel. 10-1/8" L x 7-1/8" H and 5-1/8" D.
Description

Docking Light Set

Color

White

Pack

1 pr.

Volts

12
---