SCANDVIK LIGHT G4 BACK PIN 10 LED WW (41010P) (#390-41010P)
Part #: 390-41010P
For shipping estimate:
Add to cart then visit your shopping cart to see shipping options and costs.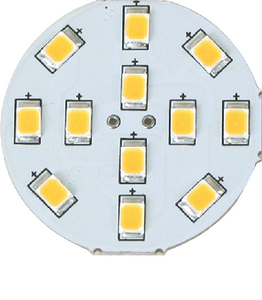 LIGHT G4 BACK PIN 10 LED WW
LIGHT G4 BACK PIN 10 LED WW
LED Replacement Bulbs
Replacement LED in clamshell.
Multi-Voltage 10 - 30 VDC (works with 12V and 24V).Replacements for popular G4, Bayonet and Festoon bulb base types.
High output SMD 5050 LED's (similar or brighter than comparable halogen or incandescent bulbs).
60% plus more efficient (low amp draw).
Low temperature, cool to the touch.
Trade #

10W G4 Halogen

LEDs

12

Watts

2.40

Amps

.17

Type

G4 Wafer Back-Pin

Color

Warm White
---