SCANDVIK LIGHT BAY15D TOWER 18 LED WW (41082P) (#390-41082P)
Part #: 390-41082P
For shipping estimate:
Add to cart then visit your shopping cart to see shipping options and costs.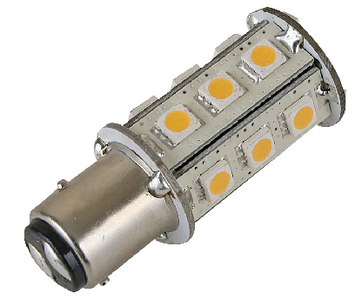 LIGHT BAY15D TOWER 18 LED WW
LIGHT BAY15D TOWER 18 LED WW
All of Scandvik's LED Replacement Bulbs come in retail packaging (clamshell with informational insert).
Unless specified, all LED bulbs are 10 - 30 Volts DC, meaning they work with 12 volt and 24 volt charging systems. You will find all of the most popular base types: G4, Bayonet (BA15d - BAY15d - BA15s), Festoon, Wedge, and MR16 style.
Socket Adapters are also available to convert your Bayonet socket to a G4 socket, which provides a larger selection of LED Replacement Bulbs.
Scandvik uses the newest LED technology which means brighter & more efficient LED products - equating to low Amp draw and low operating temperature.
LED Replacement Bulbs
Replacement LED in clamshell.
Multi-Voltage 10 - 30 VDC (works with 12V and 24V).Replacements for popular G4, Bayonet and Festoon bulb base types.
High output SMD 5050 LED's (similar or brighter than comparable halogen or incandescent bulbs).
60% plus more efficient (low amp draw).
Low temperature, cool to the touch.
Trade #

1157

LEDs

18

Watts

4.32

Amps

.36

Type

Bayonet Base Staggered Pins Dual Contacts; Tower Style

Color

Warm White
---