ROME IND INC MARSHMALLOW TREE (4900) (#345-4900)
Part #: 345-4900
For shipping estimate:
Add to cart then visit your shopping cart to see shipping options and costs.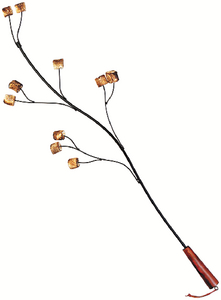 MARSHMALLOW TREE
MARSHMALLOW TREE
Made from non-stick coated steel wire that is bent and welded to form what looks like the branches of a tree. Each branch end is made to hold a marshmallow, allowing the s'more chef to cook 10 marshmallows at a time. Features a rosewood stained tapered wood handle with leather strap for hanging.
---