READY AMERICA INC ROCK N ROLL GEL (MRV22112) (#516-MRV22112)
Part #: 516-MRV22112
For shipping estimate:
Add to cart then visit your shopping cart to see shipping options and costs.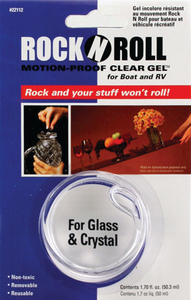 ROCK N ROLL GEL
ROCK N ROLL GEL
Thumb Lock is a strong, durable, easy to use fastening system that quickly secures portable TVs, computers and countless other objects at risk from falling on boats and RVs. Quick-release locks open easily to release and reattach equipment. The fasteners attach with industrial strength 3M adhesive pads. The peel & press adhesive pads attach easily and bond strongly to most nonporous materials. Mounting holes allow the fasteners to be screw-fixed for added strength or to surfaces not suitable for adhesive attachment.
Description

Rock N Roll Gel for flat, level surfaces
---