RAM MOUNTS RAM-108 - RAM TROLLING MOTOR SUPPORT (#170-RAM108)
Part #: 170-RAM108
For shipping estimate:
Add to cart then visit your shopping cart to see shipping options and costs.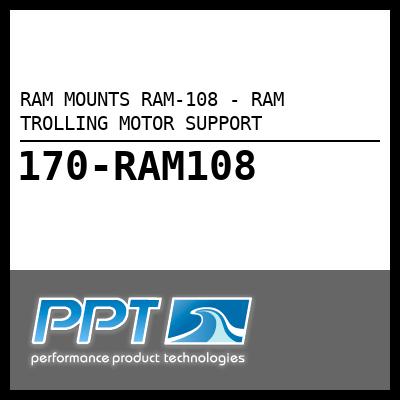 RAM TROLLING MOTOR SUPPORT
RAM TROLLING MOTOR SUPPORT
The trolling motor stabilizer will take every bit of the vibration out of your trolling motor while all the time protecting the head, shaft and mount from damage. A must for any angler with a bow mount trolling motor. The strap will accommodate rails from 0.5" to 2" in diameter. The maximum allowable distance between the mounting surface on the boat and the lowest point of the trolling motor shaft is 8.75". Mounts on smooth surface.
Description

5-1/2" arm
---