New Bobtail 3.0L Alpha "PLUS" Engine p/n 8M0116645 (#MercBob-30LTKS-A-CPO)
Part #: MercBob-30LTKS-A-CPO
This product is no longer available.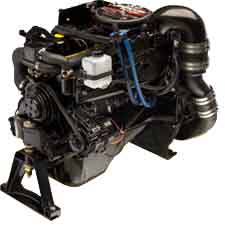 **SALE: MerCruiser is currently offering a 3 Year Warranty/Extended Protection Plan on this 3.0L Bobtail Engine Model.**
3.0L MerCruiser carbureted bobtail engine to be used with Alpha sterndrive applications. The MerCruiser 3.0L is one of the most commonly used Marine Engines for powering runabout Boat Models.
For factory installed engine options, see the table below.
Click here to go to the shim kit upgrade that is used on the newer style MerCruiser bobtail engines. The purpose of this Shim Kit was to improve the alignment between the sterndrive input shaft and the engine coupler.
An adapter may be required when repowering a boat and replacing an engine that was equipped with the old style 10 pin connector used up through approximately 2006. Click here to go the adapter.
NOTE: Due to the 2010 EPA changes pertaining to inboard marine engines, purchasing this engine requires the old engine to be returned to MerCruiser (at their expense) as well as providing the related boat hull identification numbers and other additional related information. These requirements are mandated by the EPA and not within our direct control or processing.
Specifications
Power
135HP (101kW)
Full Throttle Range
4400 - 4800 RPM
Displacement
181CID (3.0L)
Engine Type
I4
Bore & Stroke
4.00" X 3.60" (101mm X 91mm)
Compression Ratio
9.3:1
Fuel Requirement
87 Octane (R+M)/2
Fuel System
2V Carb with Turn Key Start & Mechanical Fuel Pump
Induction System
Single Piece Iron Intake-Exhaust Manifold
Ignition System
EST Analog with Distributor
Charging System
65 Amp/917 Watt Alternator
Water Drain System
Quick-Disconnect Drain Hoses with Flush Feature
Exhaust System
Iron Manifold with EDP Coating
Cooling System
Thermostatically Controlled, Raw Water
Accessory Drive System
V-Belt
Optional Power Steering
Available
Recommended Engine Oil
MerCruiser Full Synthetic Engine Oil - SAE 20W-40
Engine Guardian System
Low Oil Pressure, High Coolant Temperature, Low Drive Lube
Alpha Ratios
2.0, 2.40(H)
Dimensions (LxWxH) in
29 x 26 x 21
Dimensions (LxWxH) mm
730 x 660 x 533
Weight w/ Alpha (lbs./kg)
635/288
Optional Freshwater Cooling
Available
Go here to see our Mercruiser sterndrive rigging.

For Hawaii, Alaska, or international shipping prices, please call.

Specifications and prices are subject to change without notice.
---