Mercruiser Big V8 Coated Cast Iron Exhaust Manifold (#104035C)
Part #: 104035C
This product is no longer available.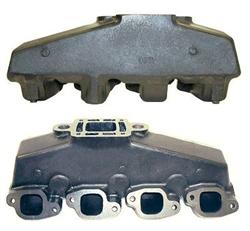 Industry's only Cast Iron Electrodeposition Coated direct replacement exhaust products. Fits 454 cu.in. GM big block V8 engines. Fits both sides of engine. Replaces Mercruiser # 89011. Includes mounting kit with new manifold and riser gaskets and new fasteners. This product is not only coated on the outside surface but on all inner surfaces including the water jacket.Technical Information.... Product Diagram....
Save $$$ when you purchase this part as part of a kit.
---