Mercruiser 5.0L/5.7L/6.2L Aluminum Exhaust Manifold & Riser Kit w/ 6" Spacers (#EK-MERC-SB-C-6S-AL)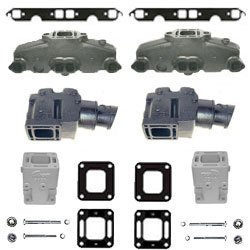 Temporarily on back-order. Please call for more details (405) 533-3812
Exhaust kit for a Mercruiser small block V8 engine with a 6 inch spacer. This kit includes the manifolds, spacers and risers along with the gaskets and mounting kits necessary for installation. The parts in this kit are made from Aluminum and have a proprietary, patented process by which Ceramic Material is molecularly infused into the INTERNAL AND EXTERNAL surfaces for the best possible corrosion resistance available with ANY cast marine exhaust system!
NOTE: If you currently have STAINLESS STEEL RISERS you will need to order the updated Remote Oil Bracket and fasteners to upgrade to the later riser design that is included in this kit.
It is recommended to replace the Separate Anode Kit (1 Anode Kit Per System) on an annual basis.
For raw water cooled applications only.Detailed Part List:
| | |
| --- | --- |
| Manifold x 2: | 104034A |
| Spacer x 2: | 102965A |
| Riser x 2: | 102994A |
| Anode Kit x 1: | kit-exhanode-spacer |
---