Mercruiser 4.3L V6 Aluminum Exhaust Manifold & Riser Kit (#EK-MERC-43L-C-NS-AL)
Part #: EK-MERC-43L-C-NS-AL
This product is no longer available.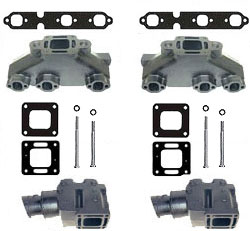 This product is temporarily on back-order. Please call (405) 533-3812 before ordering.
Currently
Exhaust kit for a 4.3L Mercruiser V6 engine. This kit includes the manifolds and risers along with the gaskets and mounting kits necessary for installation.
The parts in this kit are made from Aluminum and have a marine specific INTERNAL AND EXTERNAL coating for the best possible corrosion resistance available with ANY cast marine exhaust system!
It is recommended to replace the Seperate Anode Kit (1 Anode Kit Per System) on an annual basis.
Detailed Part List:
| | |
| --- | --- |
| Manifold x 2: | 102979A |
| Riser x 2: | 102994A |
| Anode Kit x 1: | kit-exhanode-nospacer |
---