LEISURETIME PRODUCTS 60023 - STICKNBOND WHITE ROLL 4" X 25' (#518-60023)
Part #: 518-60023
For shipping estimate:
Add to cart then visit your shopping cart to see shipping options and costs.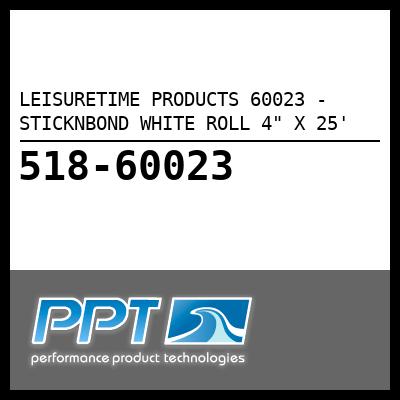 STICKNBOND WHITE ROLL 4 X 25'
STICKNBOND WHITE ROLL 4" X 25'
StickNBond seam repair kits are an easy-to-use, one step peel and stick product especially useful for roof seam maintenance. Adheres to any surface ? rubber, polyethylene, polypropylene, fiberglass, steel, wood, and aluminum. Maximum flexibility, durability, and UV protection. Keep a roll in your RV for emergency repairs anytime. Will never crack, peel, or harden. 25 year warranty.
Description

4" x 25' White Roll
---