LASALLE BRISTOL (BRISTOL PRODS) 4" CENTERSET FAUCET WH. (20377R101WA) (#135-20377R101WA)
Part #: 135-20377R101WA
For shipping estimate:
Add to cart then visit your shopping cart to see shipping options and costs.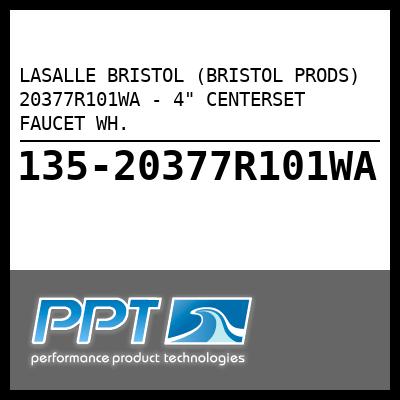 4 CENTERSET FAUCET WH.
4" CENTERSET FAUCET WH.
All Utopia faucets feature a patented self-aligning plunger action stop with non-rotating tip. The grinding action that causes washer wear in ordinary faucets and leads to drips and leaks is entirely eliminated. Because the underbody parts of Utopia are made of Celcon®, a non-adhesive material, the water minerals that normally cling to the surface of brass faucets will not stick to the Utopia faucet. As a result, corrosion never has a chance to begin. Designed for the do-it-yourselfer. Corrosion resistant construction. 4" centerset faucet with smoked handles, drilled/less pop-up assembly. Boxed.
Finish

White

Handle

Smoke Knobs
---