JR PRODUCTS 10695 - UNIVERSAL DOOR BUMPER (#342-10695)
Part #: 342-10695
For shipping estimate:
Add to cart then visit your shopping cart to see shipping options and costs.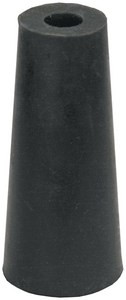 UNIVERSAL DOOR BUMPER
UNIVERSAL DOOR BUMPER
This HD entry door bumper is constructed of industrial rubber for a durable application. It can be installed anywhere bumper protection is needed. Mounting screw included.
Description

Door Bumper, Black, pkg.
---