INTERLUX PAINT FIBERGLASS SRFACE PREP VOC GL (YMA601V/G) (#94-YMA601VG)
Part #: 94-YMA601VG
For shipping estimate:
Add to cart then visit your shopping cart to see shipping options and costs.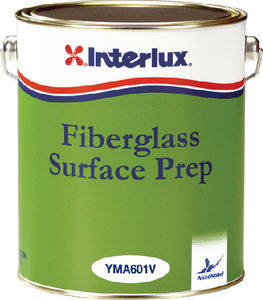 FIBERGLASS SRFACE PREP VOC GL
FIBERGLASS SRFACE PREP VOC GL
Excellent Initial Cleaning Agent in Painting Process

A Low V.O.C. contamination/mold release agent remover used for preparing fiberglass bottoms of new boats or unpainted hulls before applying primers or antifouling paints


Removes contamination, mold release agents, wax and amine blush


Clean previously painted surfaces before repainting topside finishes


Ideal for preparing inflatable boats for antifouling
Fiberglass Surface Prep-Low V.O.C., Gal.
Excellent Initial Cleaning Agent in Painting Process

A Low V.O.C. contamination/mold release agent remover used for preparing fiberglass bottoms of new boats or unpainted hulls before applying primers or antifouling paints


Removes contamination, mold release agents, wax and amine blush


Clean previously painted surfaces before repainting topside finishes


Ideal for preparing inflatable boats for antifouling
Size

Gallon

Case

2
---