GM 4.3L V6 New Base Marine Engine Power Package w/ 4 Barrel Carburetor (#2537-4vc)
Part #: 2537-4vc
This product is no longer available.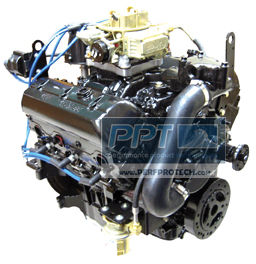 This is a Partial Marine Base Engine (Par Pac), with a complete ignition and fuel system. The reason behind the Par Pac Power Packages were to address the customers who have a pre-Vortec (12 bolt intake) engine but want to upgrade to the newer style Vortec engine. Since the pre-Vortec engines utilized a different fuel and ignition system, these components are included with the power package while the components that you can re-use from your pre-Vortec are left out which saves you money in the end. Built only on GM Marine Engine Blocks, the partial power packages are manufactured to the same exacting standards as complete engine packages. These engines are built with the newer style Vortec 4.3L (8 bolt intake) longblock and have the following components pre-installed. Furthermore, every ParPac carries a Limited 1 year warranty on both parts and labor.
Oil Level Guage Conversion from Oil pan to engine block located. Oil Level Gauge

Features
New Long Block (Vortec)
Water Circulating Pump
14? Flywheel
Electronic Dist. (HEI-Delco)
Harmonic Balancer
Carburetor (Holley/600 cfm)
Timing Chain Cover
Oil Pan
Fuel Pump (Electronic)
Thermostat Housing
Valve Covers
Spark Plugs
Plug Wires
Coil
T-HSG Hose
Includes an Up To 12 Month Limited Warranty

Upon completing any engine order on the website you will be sent a Purchase Sales Agreement which must be completed and returned before the engine will be shipped. This document contains important warranty information and protects both the seller and buyer for the purposes of the sale.




---