FULTON/WESBAR (CEQUENT) 118315 - PACKAGED T-ONE CONNECTORS (#220-118315)
Part #: 220-118315
For shipping estimate:
Add to cart then visit your shopping cart to see shipping options and costs.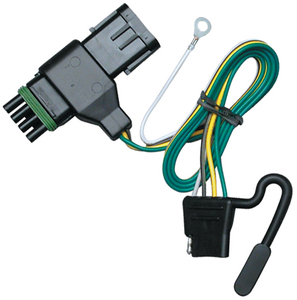 PACKAGED T-ONE CONNECTORS
PACKAGED T-ONE CONNECTORS
With more than 200 products covering over 2500 vehicle applications, Tow Ready is pleased to offer the widest coverage of T-Connectors in the industry. T-One Connectors require no splicing of wires. Simply locate your vehicles wiring harness connector, unplug the connection and insert the T-Connector into the vehicle's harness. No special tools required.
"Factory" appearance


Quick and easy installation


Solid, weatherproof, one-piece construction


No cutting, splicing or taping


Includes converter where needed


16-gauge bonded wire with 4-Way Flat plug


Just plug in the T-Connector and you're ready to tow


Simple do-it-yourself instructions on every package


MANY UNITS NOW INCLUDE CIRCUIT PROTECTION FOR YOUR SAFETY
Description

T-One Connector Assembly
---