FORESPAR RAW WATER STRAINER T 1-1/2IN (906166) (#108-906166)
Part #: 108-906166
For shipping estimate:
Add to cart then visit your shopping cart to see shipping options and costs.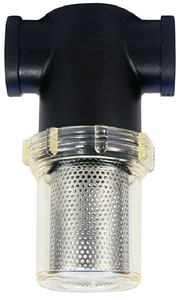 RAW WATER STRAINER T 1-1/2IN
RAW WATER STRAINER T 1-1/2IN
Consists of a Marelon head and a polycarbonate bucket with a stainless steel screen. The screw on clear bucket has a replaceable gasket for a positive seal and ease of cleaning. The T-Stainer allows lower installations. Includes a mounting bracket that allows ports to face any direction, Flow rate is 40 GPM+.
Forespar T150 Marelon Raw Water Strainer, 1-1/2"
Consists of a Marelon head and a polycarbonate bucket with a stainless steel screen. The screw on clear bucket has a replaceable gasket for a positive seal and ease of cleaning. The T-Stainer allows lower installations. Includes a mounting bracket that allows ports to face any direction, Flow rate is 40 GPM+
Ports

1-1/2" Female NPSM

Model

T-150
---