First Mate Remanufactured Mercruiser 3.7L 470 Long Block Marine Engine (#ME224LA)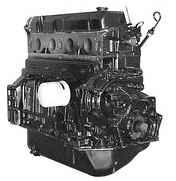 **History and Background of the Mercruiser 470 Marine Engine....(Read More)
This is an original replacement for the Mercruiser 470 (3.7L) engine. Customer must upgrade the impeller to Quicksilver ORDER P/N 47-12600A1 Here.

This longblock comes with a new oil pump. HOWEVER, the oil pump pickup must be ordered separately to validate the warranty. Warranty claims will not be covered on engines that try and use the old style existing pickup tube with the new oil pump.......ORDER P/N 13843A2 Here

This is a standard rotation long block including;

New Pistons & Moly Rings
Marine Cam and Lifters
Brass Block Plugs
New Rod, main and Cam Bearings
New Heavy Duty Timing Chain and Gears
New Oil Pump
New Marine Gasket Set
Block Resurfaced, Bored and Honed
Crankshaft Reconditioned
Connecting Rods Reconditioned
Valve Guides Reconditioned
Heads Resurfaced
New Valve Springs
Three-Angle Valve Job
Spin Tested
Pressure Tested
NOTE: Engines do not include tin ware (oil pan, timing chain cover) or water pump however they DO include the following gaskets; valve cover, intake, exhaust, front cover, and oil pan. Read More...
For more details about product installation, and how to determine whether you have a standard or opposite rotation engine, select the following link for details. Engine Installation Information....
Includes a 24 month limited warranty. Select the following link for more details. Warranty Information....
For more warranty information click: Warranty Information....
---