FIREBOY FIRE EXTINGUISHER 50 CU FT (CG20050227B) (#669-CG20050227B)
Part #: 669-CG20050227B
For shipping estimate:
Add to cart then visit your shopping cart to see shipping options and costs.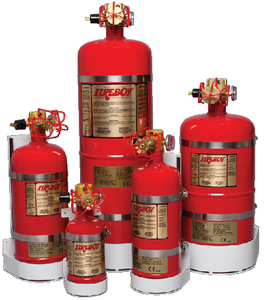 FIRE EXTINGUISHER 50 CU FT
FIRE EXTINGUISHER 50 CU FT
On board, on guard, 24 hours a day, the safest way to combat an engine room fire.
Choosing your system: determine the volume of your engine compartment in cubic feet, L x W x H. Do NOT deduct for engines, fixed tanks, or other equipment. Diesel powered craft must also install the automatic engine shutdown system.
Total flooding system


Automatic discharge at 175°F (79°C)


MA Series offers optional manual release cable (sold separately - see MA2 discharge cable kits)


Each system includes a cooled rolled powder coated steel bottom shelf bracket mount with stainless steel screw clamps, and a 2" round system status indicator light.


No water or powdery residue


3-Year Limited Warranty and is USCG, Factory Mutual, and Bureau Veritas Approved


Uses HFC-227ea non residue fire suppression agents (Heptafluoropropane) which is approved for occupied spaces and is approved for use worldwide. Effective Halon replacement clean agent.
Volume

50 cu.ft.

Size

3.0" x 12.2"
---